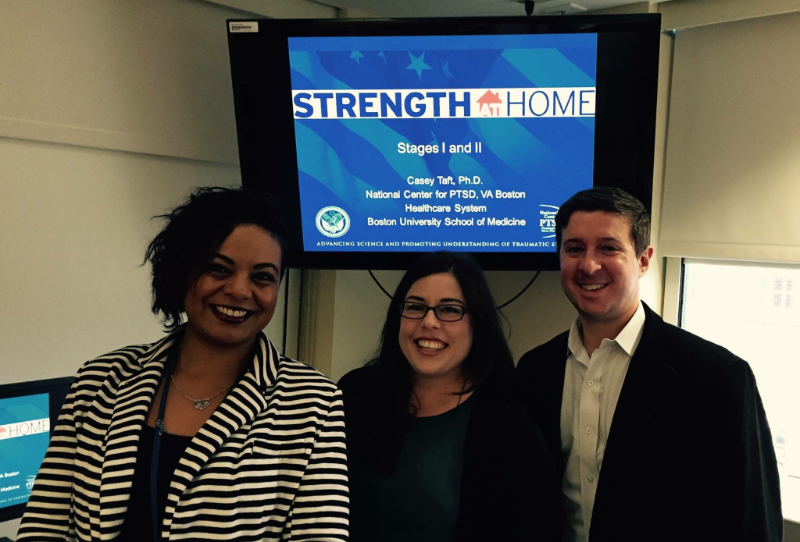 If you are a provider who wants to learn more about trauma-informed IPV intervention, or you want to be able to deliver Strength at Home yourself, you can join one of our trainings. The program director, Dr. Casey Taft, is currently conducting all Strength at Home provider trainings not included in the national Department of Veterans Affairs rollout, and these are being led virtually. Continuing education (CE) hours are available for these trainings. 
To receive a certificate as a Provider for the Strength at Home IPV intervention program, participants are expected to meet the following training requirements:
(a) Complete the 2-day intensive Strength at Home foundational training conducted virtually by Dr. Taft; and
(b) Following the training, participate in weekly Strength at Home group or individual consultation calls (30 minute sessions) while conducting two treatment groups, attending at least 15 total consultation calls.
The 2-day intensive training covers:
(a) The theoretical foundation for Strength at Home including discussion of IPV risk factors and models to help understand the etiology of IPV and the role of trauma, negative life events, and core themes;
(b) Research evidence supporting the effectiveness of Strength at Home;
(c) Motivational strategies for use with those who engage in IPV; and
(d) A step-by-step review of all material for each of the twelve intervention sessions, complete with role plays and opportunities for discussion and feedback.
Consultation calls are included with your registration for the 2-day Strength at Home training and there are no additional costs. You will also receive all therapy manuals and other relevant materials to conduct the intervention groups.
Providers for the Strength at Home Couples prevention program are typically trained together in joint military trainings. Please talk to your supervisor and contact us about arranging for a training for this program.
Please contact us here to let us know which program you are interested in and if you would like to sign up for one of our trainings. We will work with you and other trainees to schedule a mutually convenient time.